One Woman Army
(暴れん坊少女
abarenbō shōjo lit.
Rambunctious Girl) is an
execution
in
Danganronpa 2: Goodbye Despair
, with
Peko Pekoyama
being executed and
Fuyuhiko Kuzuryu
failing to interfere with it.
Sequence
Peko stands on a small seamount, holding her sword, as countless wooden samurai with Hope's Peak Academy's flags surround her. In the distance stands Fuyuhiko, whose view of the proceedings is blocked by one of the warriors jumping in front of his face.
Monokuma appears with a straw marionette that bears an image of Peko's face, which allows him to control her movements. He laughs before forcing Peko to charge into the crowd of samurai, where she begins slicing them apart with her sword. More warriors appear, but Peko tears through them with ease.
Fuyuhiko tries to reach Peko by running through the crowd of warriors. He arrives just as a samurai in front of him leaps at Peko from behind - when she whirls around to slice it in half, she accidentally hits Fuyuhiko in the process, injuring his right eye and causing him to collapse in the middle of the execution. Monokuma can be seen in the background with a shocked look on his face after Peko slices Fuyuhiko.

As Peko hugs Fuyuhiko to her chest and closes her eyes, one of her opponents approaches from behind and stabs her with its sword. The other wooden warriors quickly join in, flooding the seamount with Peko's blood as they stab her to death. The injured, unconscious Fuyuhiko survives the assault (largely due to Peko shielding him with her own body) and, after Monomi insists on it, he is subsequently taken to a hospital for recovery.
Trivia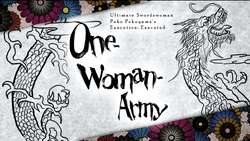 In the game's image gallery, there is an alternate title card for the execution.
Community content is available under
CC-BY-SA
unless otherwise noted.