The article is in need of translation help!
If you are a competent Japanese speaker,
you can help Danganronpa Wiki by adding translations!
JAPANESE ONLY
The article below is based on non-localized content only available in Japanese.
As such, all information in this article is based on fan-contributed translations.
The
New Danganronpa V3 / Danganronpa 1.2 x カラオケの鉄人 King of System
is a former cafe collaboration effort between
Spike Chunsoft
and the karaoke cafe
カラオケの鉄人 King of System
(
Karaoke no Tetsujin
). The cafe offered themed drinks based around
New Danganronpa V3: Everyone's New Semester of Killing
and
Danganronpa 1.2
to promote their release and re-release respectively.
It ran from March 18th, 2017 to April 30th, 2017.
Menu
Drinks
All priced at 550yen.
Hope Drink
DESCRIPTION
Despair Drink
DESCRIPTION
Monokuma Drink
DESCRIPTION
Monomi Drink
DESCRIPTION
Monokub Drink
DESCRIPTION
Gallery
Menu
| | |
| --- | --- |
| | |
| Menu advertising the drinks and coaster rewards. | Menu advertising "challenges". |
---
---
Coasters
Below are sets of coasters a customer would have a random choice between the three "Boxes" after purchasing a drink. Box A features the cast of Danganronpa: Trigger Happy Havoc, Box B features the cast of Danganronpa 2: Goodbye Despair, and Box C features the cast of Danganronpa V3: Killing Harmony.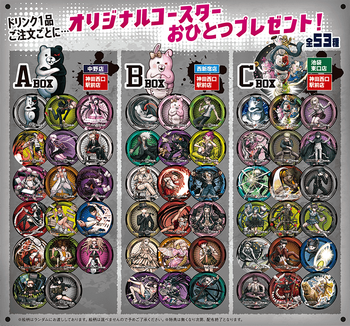 All of the Coasters sets.
External Links
Community content is available under
CC-BY-SA
unless otherwise noted.