This article is missing some important content! You can help Danganronpa Wiki by adding it!
This article needs The Ending Section!
Island Mode (アイランドモード), also known as its full title Dangan Island: Huge Panic at the Heart♡Throbbing School Trip? (だんがんアイランド どきどき修学旅行で大パニック?), is a bonus mode unlocked after beating Danganronpa 2: Goodbye Despair.
Similar to School Mode in Danganronpa: Trigger Happy Havoc and Love Across the Universe: Dangan Salmon Team in Danganronpa V3: Killing Harmony, the bonus mode serves as a dating sim, leading the player through a version of the main plot where there are no mutual killings.
Individual Student Guides
The following pages contain comprehensive guides for each students' ideal trip options, plus transcripts of all trips and their Island Mode ending.
Plot
The game starts out identically to the beginning of the main story, where Hajime Hinata wakes up on the beach on Jabberwock Island, and meets Nagito Komaeda. Afterward, Hajime recalls on how he met the other previous 15 students and they began to collect "Hope Fragments".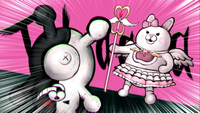 Later Nagito tells him that Usami and the others are waiting for them at Jabberwock Park. The two then head there and find Usami yelling at someone to come out. Once again, Monokuma appears on top of the statue, however this time, Usami is ready and attacks Monokuma before he can finish his introduction and defeats him. She forces him to leave the island in order to protect her students.
Without Monokuma, the students are free to bond together over the course of 50 days (as per the original intent of the Neo World Program) while collecting Hope Fragments and also being required to cooperate to build the assigned objects for Usami to complete the "Class Goal".
Introduction
Introduction Transcript

Hey... Can you hear me...? Are you okay? ...You seem pretty out of it. To be honest, I'm also... No, everyone else feels the same, too. Since we suddenly...got put in this weird situation.

...

...Hey, are you listening?

... ...I don't understand. Why am I...here...? ...
That's right... I...

I was supposed to be at Hope's Peak Academy, but all of a sudden, I was at a tropical island for some reason... And afterward... That's it! I remember now, There were 15 other students, and then... ...A mysterious, self-proclaimed rabbit mascot suddenly appeared. That's right, and I remember what that thing said. It said this was... A school trip... Because my memories are fuzzy right now, it seems I don't remember my talent.. And since I don't know what the heck is going on, I began collecting these things, called "Hope Fragments"... And then...

Can you hear me...? Hey... ...Haj...
...Hajime!

Huh...?

Are you okay? You know who I am...right?

Y-Yeah... You're...Nagito, right?

I'm so relieved... I thought you forgot about me.

You suddenly started staring into space, and no matter what I said, you wouldn't respond!

S-Sorry... Um, what happened to the others?

Ah, that's right! We need to hurry!

A weird thing suddenly appeared on the monitor and told us to go to Jabberwock Park...
Usami and the others are already there. I wonder what's going to happen this time?

What's going on...?
A strange uneasiness filled us as we hurried over to Jabberwock Park...

Once we arrived, we heard Usami's scream echo throughout the area.

Wh-Where are you!? Where are you hiding!?

Puhuhuhuhu!

Hey-hey! Where are you? Show yourself!

Ahhhh-hahahahahaha!

Why, hello there! Thank you all for waiting! Long time, no see guys! I am Monokuma! I'm the headmaster of this aca-

There you are! Cheerioooo!

Blargh!

Take this! Slap-slap-slap-slap-slap-slap-slap!

Hey, you! Don't interrupt me till I'm finished tal...blargh!

No questions asked! Haaaa-tatatatatatatatatatata!

St-Stop...!

And now for the coup de grace! Usami Final Splash Spark!

Hyaaaaaaagh!

Love and justice always win in the end!

Ugh...I can't believe I lost to Usami...

You're too noisy!
Now that you've learned your lesson, don't ever interfere with this school trip again!

Okay...

And so, the black and white bear-looking thing hobbled away...

Phew, phew...

The hell was that just now...?

What a heated battle! Just watching it got me pumped up!

That was an epic performance! You're pretty good, Usami!

Hmph! Despite my looks, I'm your teacher. I'm supposed to protect everyone, after all!

That stick looks like some sort of exquisite blade. Do you intend to kill us with that now?

Or perhaps...you intend to make us all kill each other on this uninhabited island...

That might be necessary for our survival. After all, food and water will eventually run scarce here.

Th-That is definitely not going to happen!

Though in some ways you'll need to survive here... Your lives aren't in any danger whatsoever!

Can you even call that survival...?

Jeez, what are you guys talking about? There's no way killings are going to happen!

She's right. We're on a school trip at a tropical island, right!? We should just make the most of it!

As long as there's hope, I personally don't mind killing or being killed!

N-Nagito? What are you...?

F-For now...it seems that as long as we don't do anything strange, we're not in any danger...

Also, we can leave this island as soon as we finish gathering the Hope Fragments, right?

That's what I've been saying from the beginning!

Whaaaaat!? I didn't think you were serious about that!

...What is this school trip, anyway? What are you trying to make us accomplish on this island...?

All righty! I shall announce it to everyone right now!

While you all relax on this tropical paradise, you must get along and strengthen your bonds with each other!
That's the main rule of this heart-throbbing school trip!

"Heart-throbbing school trip"...?

Spend these peaceful and relaxing days nourishing hope and lazing about free from pain, free from suffering...

And so, this lovey-dovey, heart-throbbing school trip... ...starts right now!

What the hell does that even mean...!?

There's no way I can believe such a foolish...

Love! Love!

...Huh?

All right! Now that that's decided, let's go swimming!

I expected something like this would happen, so I took the liberty of wearing my swimsuit under my clothes!

Oh, what a coincidence! I did too!

So did I... My loins are always ready to go!

Huh? Wait, you guys, hold on...!

Then it's a race to the ocean!

Ah! Please wait!

Yahooooooo!

...Seriously?

A white sandy beach... Crystal clear ocean... High school students enjoying themselves... This feels like a resort... There's no other way to describe it.

I don't have to doubt this at all. And so, the curtain to our school trip has been raised—
Gameplay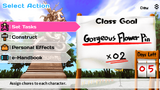 While in School Mode the main goal was to gather materials to build Monokuma's back up units, in Island Mode the main goal is to collect all the "Hope Fragments", which can be achieved with spending Free Time Events with the other students while the gathering for a goal is the secondary goal.
Hajime will also be given one block of Free Time every day - two at the end of the week that Hajime and his classmates are allowed off, called a "Holiday" - which can be spent in a similar way to the Main Game, either spent by himself or spending time with any of his classmates. Using the Trip Tickets which are rewarded for completing Usami's Class Goals, Hajime can take students to a location of his choosing based on the student's tastes in order to build his relationship with them.
All the students have a maximum collecting and cleaning level of 9, which can be maxed during several instances of the game mode. There is also a "New Game+ Cycle" where the collecting and cleaning levels carry over in a new game, but nothing else.
Also on any particular Work Day, a random character might feel "energized" and have max HP for said day.
Upon finishing Usami's final task, you will receive Monocoins to be used in the Main Game.
Set Tasks
Each individual character can be assigned a daily task, which include resting, cleaning or gathering materials in the 10 different featured locations. Gathering materials will slowly consume each student's energy, as well as slowly reduce the island's cleanness. Resting for the day will not provide materials to build backups, but it will also prevent the "Cleanness" gauge from falling any faster. Assigning the cleaning task will fill up the cleanness gauge again. If the gauge becomes empty, the students will be forced to clean, wasting a few days.
Gathering
---
Icon
Location
Items

Rest
休憩
None.

Clean
掃除
None.

Rocketpunch Mart
ロケットパンチマーケット
Plate, Glue, Beast Oil
Water, Battery, Expensive Plate

Ranch
牧場
Jabbercabbage, Beast Meat, Egg
Milk, Beast's Skin, Golden Egg

Beach
ビーチ
Coconut, Sand, Jabbacrab
Seaweed, Seashell, Shiny Stone

Ancient Ruin
遺跡周辺
Jabbanana, Jabbapotato, Bark
Tree Vine, Water, Magical Powder

Electric Ave. Shop
電気屋
Junk Parts, Integrated Circuit, Nail
Battery, Gold, 3 Sacred Treasures

Nezumi Castle
ネズミー城
Hammer, White Cotton, Cloth
White Flower, Paint, Jabbacrystal

Military Base
軍事施設
Fuel, Knife, Paint
Small Engine, Nail, Large Engine

Mountains
山
Iron, Silver, Gold
Red Flower, Jabbamerald, Jabbiamond

Forest
森
Log, Beast's Bone, Beast's Skin
Green Flower, Egg, Special Beast Meat

Coast
海
Jabbafish, Seashell, Salt
Jabbasquid, Jabbacrab, Jabbapearl
Construct
Construction will display all owned materials and what you have created from them, along with the next goal. It's divided in four categories: Goal, Tools, Consumables and Processed Goods. "Goal" will display the materials needed for the goal received from Usami. Tools is a collection of tools which can be built to increase the students' stats such as reduce health cost, increase cleaning effect and increase gathering yield. Consumables are food you receive from Usami herself or cook by using your own materials. They can be used to refresh the students' health, increase levels and automatically clean the island. Processed Goods are materials created from others and are used to further proceed in building your goals.
Goal
---
Throughout Island Mode, Usami will request the player to "cooperate" with the other students by gathering materials for Class Goals. Doing so within the given day limit will reward the player with Trip Tickets, which can be used to take classmates on a trip to locations over the island and bond with them. It is noted however using Trip Tickets forgoes receiving any "Hope Fragments" for that particular event.
Name
Description
Resources
Pretty hairpin you can find anywhere.
Seashell: 2
Green Leaf: 2
Red Leaf: 2
Rope: 1
Gorgeous hairpin made from a rare flower on Jabberwock Island.
White Flower: 2
Gold: 3
Silver: 3
Rope: 1
Black Flower: 2
A house for Usami. Apparently she's very private.
Paint: 20
Clay: 30
Wood: 25
Saw: 20
It talks when you squeeze the tummy. "I'm Usami! Teeheehee!"
White Cotton: 5
Cloth: 2
Battery: 1
AI Chip: 1
A coin inscribed with Usami's face. They're pretty much worthless.
Fuel: 5
Paint: 1
Jabba Alloy: 1
A beautiful accessory made from ore found on Jabberwock Island.
Jabbamerald: 6
Jabbacrystal: 3
Jabbapearl: 3
Fuel: 10
Rope: 10
An extravagant dish made with lots of fresh island ingredients.
Special Beast Meat: 5
Golden Egg: 5
Expensive Plate: 5
Fresh Sashimi: 15
Freshly squeezed fruit juice: 15
Usami's invitation to hope. Guests with despair have 1st priority.
Fuel: 50
White Flower: 30
Wood: 40
Golden Plate: 30
Saw: 20
That's right. I'm Usami.
No I'm not from the future.
White Cotton: 50
AI Chip: 40
Jabba Alloy: 10
Bag: 30
Huh? This is...uhm...
Who is this...?
Cloth: 50
White Cotton: 50
Paint: 50
AI Chip: 10
Golden Plate: 40
Tools
---
Constructing tools can aid the player in collecting more materials or give the students more HP with which to explore the island.
Tool
Effect
Resources
Spear of Gungnir
グングニルのヤリ
Doubles the amount of Meat Materials collected
Shiny Stone: 2
Black Flower: 5
Beast's Bone: 10
Swimmy Nail
スイスイネジ
Doubles the amount of Water Materials collected
3 Sacred Treasure: 2
Junk Parts: 10
Hammer: 10
Hyper Glove
ハイパー手袋
Doubles the amount of Mineral Materials collected
Magical Powder: 2
Seashells: 10
Bag: 5
Easy Scope
らくらくスコップ
Doubles the amount of Nature Materials collected
Jabbermerald: 3
Iron Plate: 5
Paint: 10
4-D Shopping Basket
4次元カイモノカゴ
Doubles the amount of General Materials collected
Jabba Alloy: 2
Clay: 5
Nail: 10
Safety Charm
行動安全お守り
Lowers HP cost of actions
Jabbiamond: 1
Cloth: 5
Rope: 5
Elephant Dustcloth
象巾
Raises cleaning efficiency
Special Beast Meat: 1
Bag: 5
Hope Broom
希望のホウキ
Greatly raises cleaning efficiency
Golden Egg: 3
Wood: 10
Saw: 10
Consumables
---
Consumables are items that Usami can gift to the player, or that the player can create themself that gives a one-time boost in HP or cleaning depending on the item.
Name
Use
Resources
Jabba Salad
ジャバサラダ
Restores a little bit of HP.
Jabbanana: 1
Jabbacabbage: 1
Plate: 1
None
Jabba Croquette
ジャバコロッケ
Restores a fair amount of HP.
Jabbafish: 2
Jabbapotato: 1
Beast Oil: 1
Plate: 1
None
Jabba Juice
ジャバジュース
Restores a lot of HP.
Coconut: 2
Milk: 1
Red Flower: 1
None
Jabba Omelette Rice
ジャバオムレツ
Restores all HP.
Beast Meat: 2
Egg: 2
Green Flower: 1
None
Jabba Hot Pot
ジャバ鍋
Restores all HP to everyone.
Jabbacrab: 3
Jabbasquid: 2
Seaweed: 2
Salt: 2

Hot Water: 1
Spirit Bomb
元気ばくだん
Restores consciousness.
Small Engine: 3
Salt: 5
Fuel: 5
None
Medicine of Hope
希望の薬
Grants hyper energy for the next assigned task.
Seashell: 2
Small Engine: 2
Coconut: 1
Seaweed: 1
None
Broom Robo
ホウキロボ
Makes things a little cleaner.
Battery: 1
AI Chip: 1
Iron Plate: 1
Vacuum Robo
バキュームロボ
Makes thing a lot cleaner.
Battery: 1
Small Engine: 1
AI Chip: 1
Gold Plate: 1
Black Hole Robo
ソウジキロボ
Makes things as clean as possible.
Battery: 1
Large Engine: 1
AI Chip: 1
Gold Plate: 1
Collecting Spirit
採集魂
Raises Collection Level by 1.
Shiny Stone: 10
Magical Powder: 10
Jabbacrystal: 10
Jabbiamond: 10
Jabbapearl: 10
None.
Cleaning Spirit
掃除魂
Raises Cleaning Level by 1.
Expensive Plate: 10
Golden Egg: 10
3 Sacred Treasures: 10
Large Engine: 10
Special Beast Meat: 10
None.
Processed Goods
---
Processed Goods are construct items that require two or more raw materials to make.
Name
Resources
Rope
ロープ
Tree Vine: 1
Knife: 1
Glue: 1
Hot Water
熱湯
Water: 1
Fuel: 1
Wood
木材
Log: 2
Nail: 1
Iron Plate
鉄板
Iron: 2
Hammer: 1
Golden Plate
金板
Gold: 2
Hammer: 1
Jabba Alloy
ジャバ合金
Jabbacrystal: 1
Silver: 3
Hammer: 3
AI Chip
AIチップ
Junk Parts: 2
Integrated Circuit: 1
Saw
ノコギリ
Silver: 1
Beast's Bone: 1
Black Flower
黒い花
White Flower: 1
Paint: 1
Fresh Sashimi
新鮮な切り身
Jabbafish: 1
Jabbasquid: 1
Jabbacrab: 1
Seaweed: 1
Bag
革
Beast's Skin: 1
Bark: 1
Clay
粘土
Sand: 2
Water: 1
Freshly squeezed fruit juice
搾りたて果汁
Jabbanana: 1
Water: 1
Milk: 1
Personal Effects
The Personal Effects option gives a quick overview over the students' levels and health situation. It allows you to refresh health by using food, increase levels or wake unconscious students. This feature should normally be checked before assigning tasks as a lack of health points will end in losing work days should students get too exhausted.
Free Time
The player will be given one block of Free Time every day - two at the end of the week Usami names a "Holiday" where Hajime and his classmates have off. The player can spend the block of Free Time with any one of Hajime's classmates, or sleep to skip that Free Time period.

The player will be given the opportunity to raise Hajime's "love" with another student. If the player manages to build the Class Goal, Usami will provide the player with "Trip Tickets", which can be used to take another student on a "date" where you can ask them one of three questions. Each character can grow up to a maximum level of 10 hearts.
The student responses during the date will raise or lower the affection for a full or half a heart depending on how much the character liked or disliked your statement. On Day 51 Hajime will speak to any student with maximum love, receiving a special ending with said student.

Presents
---
For a more comprehensive guide, see the MonoMono Machine - Danganronpa 2 page.
| | Student | Best Presents |
| --- | --- | --- |
| | Akane | Prepackaged Orzotto, Century Potpourri, Other "Food" Gifts |
| | Chiaki | Tips & Tips 2nd Edition, Power Gauntlet, Nitro Racer, Century Potpourri, Rose In Vitro, Skullhead Mask |
| | Sonia | Gugelhupf Cake, Brightly Colored Jeans, Another Battle, Century Potpourri |
| | Hiyoko | Cloth Wrap Backpack, Biggest Fantom, Paper "10th Act Verse", Century Potpourri, Rose In Vitro |
| | Mahiru | Silver Ring, Kirlian Photography, Japanese Tea Cup, Century Potpourri, Rose In Vitro, Compact Costume |
| | Mikan | Queen's Straitjacket, Mr. Stapler, Bandage Wrap, Other "Medical/Science" Gifts |
| | Ibuki | 2.5D Headphones, American Clacker, Desperation, Two-Sided Ukulele, Absolute Tuning Fork |
| | Peko | Apron Dress, Antique Doll, Gold Coated Sheath, Century Potpourri, Secret Wind Sword Book |
| | Nagito | Hope's Peak Ring, Memory Notebook, Mukuro's Knife, Other "Hope" Gifts |
| | Byakuya | Chocolate Chip Jerky, Sweet Bun Bag, Cocoshimi, Black Rabbit Picture Book, Other "Food" Gifts |
| | Gundham | Sunflower Seeds, Earring of Crushed Evil, Small Degenerated Reactor, Angel's Fruit, Other "Supernatural" Gifts |
| | Kazuichi | Radiosonde, Lilienthal's Wings, Small Degenerated Reactor, Old Timey Radio, Broken Warhead |
| | Teruteru | Passionate Glasses, Kiss Note, Kokeshi Dynamo |
| | Nekomaru | Coconut, Fresh Bindings, Ogami Clan Codex, Sand God's Storm Horn |
| | Fuyuhiko | Antique Doll, Stardust |
Shot Through the Heart
Shot Through the Heart is a minigame in Island Mode. It uses mechanics used in the Rapid Fire Debate trial minigame in the main plot. As Hajime builds his relationship with a character on Trips, Hajime will learn insights about the characters which can be used like truth bullets. Unlike the Rapid Fire Debate, there is no time limit on Shot Through the Heart.
The Shot Through the Heart is a random event that can occur when Hajime gets close to full reputation hearts for a certain classmate and uses a trip ticket on them. This event can occur multiple times with a single character. On the 51st Day, if the player has gathered all the hope fragments, Hajime will be alone on the beach with any characters that the player has earned full max reputation with. Talking to them will trigger the character's true Shot Through the Heart event. If the correct answer is selected, they will receive that character's ending.

Students you've already maxed out in previous playthroughs will have a heart indicator next to their sprite in "Usami's Diagnosis".
Ending
Trophies
There are 18 trophies available in Island Mode:
1 bronze trophy for completing Island Mode once
1 silver for seeing every possibly Island Mode ending
15 bronze trophies for completing each classmate's report card
1 gold for completing all report cards
LIST OF PSN and STEAM TROPHIES

I Wanna Soak Up Some Sun
Cleared Island Mode once

Life's a Real Beach
Saw every possible Island Mode ending

Hope Springs Eternal
Filled in every page of Nagito's Report Card

Overlord's Vassal
Filled in every page of Gundham's Report Card

Grease Monkeying Around
Filled in every page of Kazuichi's Report Card

The Game Hungers for Seconds...and Thirds
Filled in every page of Byakuya's Report Card

Cooking With Passion
Filled in every page of Teruteru's Report Card

Caught in a Rad Bromance
Filled in every page of Nekomaru's Report Card

Honor and Humanity
Filled in every page of Fuyuhiko's Report Card

Starving for Affection
Filled in every page of Akane's Report Card

Co-Op Partner
Filled in every page of Chiaki's Report Card

A Royal Affair
Filled in every page of Sonia's Report Card

It's Lolita Complicated
Filled in every page of Hiyoko's Report Card

Picture Perfect
Filled in every page of Mahiru's Report Card

Helloooooooooooooooo Nurse!
Filled in every page of Mikan's Report Card

Dynamic Duet
Filled in every page of Ibuki's Report Card

Feudal Friendship
Filled in every page of Peko's Report Card

Mr. Congeniality
Filled in every page of every character's Report Card
Community content is available under
CC-BY-SA
unless otherwise noted.