THIS ARTICLE IS ABOUT A REAL PERSON
Please ensure any edits and additions to this page are respectful, on-topic, and constructive.
Do not share any of this person's private information, or any of your personal opinions or speculation.
Hekiru Shiina (椎名 へきる Shiina Hekiru) is a Japanese voice actress and singer. She is associated with Arts Vision and was affiliated with Sony Music Records, her record label until 2009 when she switched to Lantis.
Some of her roles include Hikaru Shidou in Magic Knight Rayearth and Alpha in Yokohama Kaidashi Kikō.
She is the Japanese voice of Celestia Ludenberg in Danganronpa series. In the English dub, Celestia's voice is provided by Marieve Herington (Danganronpa: Trigger Happy Havoc) and Lindsay Seidel (Danganronpa: The Animation). In the German dub, Celestia is voiced by Runa Aléon.
Work on Danganronpa
As a musician
Other Roles
Some of her credited roles include:
Anime
Video Game
External Links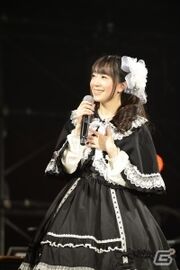 English:
Japanese:
References
Community content is available under
CC-BY-SA
unless otherwise noted.