CLEAN-UP

This article is in need of a clean-up!
You can help by correcting grammar, rewording, and quality checking!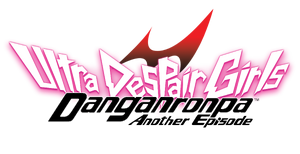 "
I won't give up anymore, I won't fall into despair!
— Komaru Naegi, Danganronpa Another Episode: Ultra Despair Girls - Trailer
"
Danganronpa Another Episode: Ultra Despair Girls (絶対絶望少女 ダンガンロンパ Another Episode Zettai Zetsubō Shōjo Danganronpa Another Episode) is a spin-off game based around the Danganronpa series.
Information and gameplay footage was first released at the Sony Computer Entertainment Japan Asia Conference on September 9, 2013.[2] The game was released on September 25, 2014, in Japan for the PlayStation Vita and is also compatible with PlayStation TVs.
At the NIS America's February 19 press event, it was confirmed that the game would be released in the West. The localized game was released in North America on September 1, 2015, in Europe on September 4, 2015, and in Australia on September 10, 2015. The Western release includes both Japanese and English audio.
The game takes place between the events of Danganronpa: Trigger Happy Havoc and Danganronpa 2: Goodbye Despair.
A PC release of the game was announced on November 18, 2016.[3] On the same day, NIS America confirmed a PS4 port will be released on June 27, 2017, and later on June 29, 2017, in Japan.[4]
Synopsis
"Komaru Naegi is a normal girl, the kind you can find anywhere. She was taken from her family and imprisoned in an apartment during The Tragedy. Even after a year and a half, she has not managed to escape. Komaru has almost completely abandoned hope and has grown to accept her imprisoned life. But one morning, she was forced to learn even deeper despair when someone suddenly broke down her front door. But it wasn't a hero or a savior...
It was a Monokuma.
After escaping from the merciless Monokuma, Komaru is surprised to see the outside world, a world she hasn't seen in one and a half years. It has become a world of despair, where children controlling Monokumas ruthlessly hunt down adults. Her only hope of survival is the Hacking Gun, given to her by a mysterious stranger, a girl by the name of Toko Fukawa." - Official NIS synopsis [5]
"Komaru Naegi, Makoto Naegi's little sister, has been imprisoned inside a mysterious apartment for over a year. One day, she is rescued by Byakuya Togami of Future Foundation, but the rescue is derailed by a sudden attack of hundreds of Monokumas. Komaru soon discovers that the city has been taken over by a group of children calling themselves the Warriors of Hope. Their leader, Monaca Towa, declares that the city will be the site of a "children's paradise," and to accomplish this, all the adults will be exterminated. Komaru teams up with Toko Fukawa to try to survive the rampaging Monokumas, escape the crafty Monokuma Kids, and uncover the secrets of the city." - Official Steam synopsis [6]
Gameplay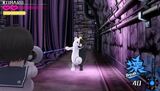 Danganronpa Another Episode is a third-person adventure shooter game where the player controls Komaru Naegi as she tries to survive in a city overrun by Monokuma Units with the help of her partner Toko Fukawa.
During the game, the player has the option to switch between playing as Komaru and Toko's split personality, Genocide Jack. Choosing to play as Komaru allows the player to utilize a megaphone-shaped hacking gun which turns her words into various types of ammunition, called Truth Bullets. Initially, Komaru has all types of Truth Bullets in unlimited amounts. Later on, The Servant messes with the gun when she is initially taken hostage onto the Warriors of Hope's airship, therefore forcing her to rediscover the different bullets and use them in limited supply.
Main article: Megaphone Hacking Gun
Using the hacking gun, Komaru can issue several different commands based on the Truth Bullet she shoots:
| Image | Description |
| --- | --- |
| Break | The first of two Truth Bullets Komaru starts with is called the Break Bullet. This is the basic attack bullet that Komaru can shoot at Monokuma Units to inflict damage. 3-4 shots take down a Monokuma Unit unless the player hits the Monokuma's weak point, the red left eye. Shooting the eye will result in a one-hit defeat plus a golden Monocoin against most enemies. Additionally, successfully hitting the weak point powers up the next shot significantly. |
| Move | The second of the default Truth Bullets is Move. Move allows Komaru to active machinery such as generators, cars, and the Monoku-Man arcade machines. Move also activates the MonoMono machines, which dispense health, bullets, and batteries. |
| Dance | The third Truth Bullet, Dance, is the first type collected by Komaru on her adventure. Shooting this Truth Bullet will force the Monokuma to dance for a while, leaving it completely vulnerable. The Dance Bullet is most effective against Siren Monokumas, who will draw in all nearby Monokuma towards them for easier destruction. |
| Detect | The 4th Truth Bullet, Detect, allows Komaru to search for hidden things in the environment, such as Monokuma Kids and their artwork. |
| Knockback | The 5th Truth Bullet is Knockback, which blasts the Monokuma Units backward. It has a decent spread, but short range. The Knockback Bullet is especially effective against Guard Monokuma, since it can blast their riot shields away, and Ball Monokuma, which roll and destroy other Monokuma in their path, and Bomber Monokuma, which drops it's bombs when hit. It also works well near environmental hazards such as water or pits, since it can blast Monokuma Units into the hazards for instant kills. |
| Paralyze | The sixth Truth Bullet obtained by Komaru is Paralyze. Paralyze is an electricity-based bullet that can defeat basic Monokumas in one hit. It also affects other enemies standing close to the initial target, making it useful against large groups. If fired at something standing in shallow water, Paralyze will hit everything touching the water - including Komaru if she isn't standing on dry land. |
| Burn | The seventh Truth Bullet is a fire-based bullet called Burn. It can be shot at an extremely fast pace. It also has the most capacity of any offensive Truth Bullet, making it effective against quicker Monokuma Units such as Destroyer Monokuma and Beast Monokuma. |
| Link | The eighth and final Truth Bullet to be reacquired is the Link Bullet. The Link Bullet allows Komaru to temporarily control any Monokuma Unit she hits. The Monokuma Unit can then be directed to move to a new position or attack its allies. |

On the other hand, the player can also choose to call upon the invincible Genocide Jack, who carries her "Genoscissors" and a stun gun which allows her to go on a rampage and destroy all the Monokuma Units around her. However, the player can only use Genocide Jack for a limited period of time. Once the batteries are drained, Genocide Jack will immediately revert back to Toko. The player can revert Genocide Jack manually to preserve batteries. On Genocide Mode, the batteries will regenerate when using Komaru, but on all other modes, batteries can only be replenished by collecting battery drops from MonoMono Machines.
Genocide Jack's normal attacks include a basic melee combo, whose length can be upgraded by buying upgrades from shops, and through a charge attack. The charge attack functions differently and does more damage the longer it's charged. A short charge results in Genocide Jack throwing scissors in all directions and is effective at close range. A medium charge results in Genocide Jack flipping upside down and flying forward while spinning like a top while slashing, cutting a wide swath through enemies. At full charge, Genocide Jack flies forwards while spinning like a drill, punching through any enemy in her path. Being attacked will cancel any charge. Upgrades also exist for both charge attack damage and charge speed.
In addition to her normal attacks, Genocide Jack can also use special moves using Slash Lust. The Slash Lust gauge is indicated by a row of scissor symbols at the bottom of the screen while Genocide Jack is active. Slash Lust charges by using normal and charge attacks to kill Monokumas, and both the charge rate and the maximum capacity are upgradeable. When using Slash Lust, the player must first lock onto a target. Two types of Slash Lust attacks are available. The first uses only a single unit of Slash Lust and targets a single enemy. The second uses three units and can target up to five enemies. Once activated, Genocide Jack jumps off-screen and then an automated sequence is shown in which she attacks the targeted enemy.
"Despair Time" will activate if Komaru loses all her health. In this event, the player must stop the shrinking white circle inside the yellow ring or the smaller blue ring to save Komaru. Stopping the circle inside the yellow ring will cost one of Toko's batteries, however, stopping it inside the blue ring does not cause Toko to lose any batteries. If Toko has no batteries only the blue ring will appear. Failing this event will cause a game over.
Danganronpa Another Episode also features a different system for collecting Monocoins. In this game, Monocoins are collected by defeating enemy Monokuma Units. Depending on how the Monokuma Unit was defeated, the Monokuma will drop gold, silver, or bronze Monocoins. These Monocoins can be used to purchase upgrades for Komaru's Megaphone Hacking Gun and Genocide Jack's scissors at the Monokuma Kid shop. Monokuma Units can also drop other items when defeated such as Truth Bullets, batteries, and extra lives.
The player will also encounter various Monokuma Kids who will challenge Komaru and Toko to various puzzle-like minigames which the player must complete to access new areas. These challenges range from destroying Monokuma Units, finding Monokuma Kids without being caught, and solving various riddles throughout the game.
Compared to Danganronpa 2: Goodbye Despair, Danganronpa Another Episode features a lot more collectibles in the game, which can be found by exploring Towa City or by using the Detect Truth Bullet on the Megaphone Hacking gun. These various collectibles include Hit List Cards, Socki the Sock, Books, Reference Books, Hidden Kids, and Notes.
Game Difficulty
Danganronpa Another Episode: Ultra Despair Girls also features three difficulty modes which are very different from the previous games: "Genocide Mode", "Komaru Mode" and "Despair Mode".
Genocide Mode enables the "batteries gauge" (which dictates how long you can use Genocide Jack) to regenerate over time at a considerable rate. This allows the player to use Genocide Jack almost endlessly, leaving the player to enjoy the rest of the game at their own pace. This mode also increases pickups. Also known as "Super Ultra Pumper Genocide Jack Mode. For those who just want to enjoy the story".
Komaru Mode supplies the player with plenty of Truth Bullets and battery pickups for action-packed gameplay. Genocide Jack's battery gauge does not regenerate on its own anymore, forcing the player to primarily use Komaru, only switching to Genocide Jack for limited stretches. This game difficulty is described as "Working hard for a Normal Girl Mode".
Despair Mode is the hardest mode in the game. This mode makes ammo drops smaller, forcing players to conserve their shots or risk running out of ammo (this is best achieved by aiming for enemy weak spots as well using explosions or rolling Ball Monokumas to kill multiple enemies at a time). Also, some of the MonoMono Machines that drop ammo on lower difficulties now merely drop coins instead. Segments with time limits have those limits reduced as well. As a trade-off, coin pickups are of larger amounts in this mode, facilitating the purchase of Bling Bullets and Scissor upgrades. Also known as "Ultra Despair Mode."
Development
Game Development
Unlike the two previous entries in the Danganronpa series being visual novel adventure games, Danganronpa Another Episode: Ultra Despair Girls is a 3rd person spin-off game. The game first was a project from members of Spike Chunsoft that wanted to develop a spin-off game that was more action-oriented. One of the proponents for a spin-off game was Kazutaka Kodaka, who always wanted to write a story of two characters running away from despair, and he felt that the easiest way to do this was through an action game that necessitated movement with Danganronpa characters. When Spike Chunsoft green-lit the proposal, they let Kodaka have free rein to write the narrative for Danganronpa Another Episode: Ultra Despair Girls. Kodaka stated that he spent an equal amount of time writing the dialogue and backstories for each of the characters of the game compared to the previous games. One aspect of Danganronpa Another Episode: Ultra Despair Girls that the development team was worried about was whether the shift in gameplay genres would alienate players who were not good at action games. They decided to add the mechanic of switching between characters and the ability for Toko to switch to Genocide Jack to make it easier for players.
Danganronpa Another Episode: Ultra Despair Girls was announced at a Sony Computer Entertainment press conference in September 2013, where the first gameplay trailer was shown; the trailer also teased the third entry in the series, Danganronpa V3: Killing Harmony. When the game launched, Spike Chunsoft promoted the game and offered several pre-order bonuses, including digital wallpapers, mousepads, and a smartphone stand. Additional merchandise such as Monokuma stuffed toys and an armband were also offered at Comiket.
According to Kodaka in an interview, the game's original concept was "an action game, and then within that, two girls together, in an incredibly hopeless situation, and how they come together to overcome what they're experiencing, what they're facing."[7]
According to Masafumi, Danganronpa Another Episode: Ultra Despair Girls wasn't going to get a VR game because other companies were already working on other virtual reality shooting games and because the developers wanted to create something that only they could make. Terasawa decided to make the punishment sequence play out from a first-person perspective to make the player feel horror, but also include Monokuma to lighten the mood, leading to the creation of Cyber Danganronpa VR The Class Trial.[8]
Character Development
The character designs are one of the most notable changes in the final game, and a lot of them had a very different appearance prior to it.
Komaru Naegi
Komaru Naegi is one of the characters whose designs changed more than anyone else, having in total 6 different concept designs. Some of these designs are very similar to some of the characters that appear in the games, such as the fifth and sixth concept designs, which highly seem to be used as the designs of Kanon Nakajima and Maki Harukawa.
Komaru's designs highly changed during the development of the game. There were three early sketches of Komaru's sprites; these were placeholders for the "motivation" minigame.
Monokuma

The original Monokuma Unit also featured some differences — they were more intelligent and also carried knives, as seen in the game's trailer.
In the first trailer for Danganronpa Another Episode: Ultra Despair Girls, there was a version of Monokuma that held 2 knives; however, this wasn't shown in the final game because it was scrapped at some point during the games development for an undisclosed reason.
Characters
---
Monokuma Units
Monokuma Units
モノクマ
Voiced By:
Nobuyo Ōyama
Brian Beacock

Single Monokuma
The most common enemy in the game, a larger version of the original Monokuma. They hack, slash, and stab their targets with retractable metal claws.


Bomber Monokuma
An explosive Monokuma Unit that throws bombs. Explodes when defeated.
Siren Monokuma
A Monokuma Unit with a back-mounted speaker pack that attracts more robots to him.
Junk Monokuma
A grisly Monokuma Unit resembling a heavily-disfigured version of the original.
Guard Monokuma
A Monokuma Unit wearing police armor. Carries a large riot shield invulnerable to attacks but can be hurt from an attack behind him or if the Knockback Bullet exposes him.
Destroyer Monokuma
A Monokuma Unit equipped with a flamethrower and a jetpack.
Beast Monokuma
A large Monokuma Unit that crawls on all fours. Identifiable by its beastly grunts and its erratic right eye.
Ball Monokuma
A Monokuma Unit with a spherical body that can also be used to run over anything in its path. Throws garbage to damage and disorient its enemies.
In Other Languages:
Danganronpa Another Episode: Ultra Despair Girls
絶対絶望少女 ダンガンロンパ Another Episode
絕對絕望少女 槍彈辯駁Another Episode
절대절망소녀 단간론파 Another Episode
Marketing
Japan
On September 25, 2014, Danganronpa Another Episode was licensed and published by Spike Chunsoft in Japan for PlayStation Vita. The game received a rating of D from CERO. The game received both a standard and limited edition release. The limited edition included a physical copy of the game, a Danganronpa Another Episode bag, a Monokuma mug, two-character clear files, and an official art poster. The game was later re-released for the PS4 on June 29, 2017.
North America/Europe/South Asia/Australia
In September 2015, the game was licensed and published by NIS America for PlayStation Vita in North America and Europe. The game received a rating of M by ESRB and 16 by PEGI. The game received both a limited edition and a single disc release. The limited edition included a copy of the game, a 30-page art book, a fifteen track soundtrack single disc, and a collectors' box. In November 2016, NIS America announced a port for PlayStation 4, with both the limited edition and the single-disc version.
South Korea
On December 3, 2015, the game was licensed and published by Intragames in South Korea for PlayStation Vita. The game received a rating of 18 by GRAC. The limited edition release included a copy of the game, a special art book, a keychain, a special book featuring Danganronpa: Trigger Happy Havoc characters, and a steel cartridge case.[9]
Taiwan/China
The game was published by Spike Chunsoft in July 2015 for PlayStation Vita. The game received a rating of 18 by GSRR.
Steam
The Steam port was released worldwide on June 27, 2017. The game featured English and Japanese dual audio, as well as English, Japanese, Traditional Chinese, and Korean subtitles.
System Requirements
Minimum
Recommended
OS:
Windows 7 64-bit
OS:
Windows 7 64-bit
Processor:
Intel Core i3-530 CPU 2.93GHz
Processor:
Intel Core i3-530 CPU 2.93GHz
Memory:
4 GB RAM
Memory:
8 GB RAM
Graphics:
NVIDIA GeForce GTX650 1GB or AMD HD 7700 1GB (DirectX 11 graphic card required)
Graphics:
NVIDIA GeForce GTX650 1GB or AMD HD 7700 1GB (DirectX 11 graphic card required)
DirectX:
Version 11
DirectX:
Version 11
Storage:
18 GB Available
Storage:
18 GB Available
Soundcard:
DirectX 9.0c compatible sound card
Soundcard:
DirectX 9.0c compatible sound card
Reception
Danganronpa Another Episode received generally positive reviews. Famitsu awarded the game a score of 35/40[10] while the English localization received scores of 72 and 67 for the PS Vita and PS4 versions respectively[11][12].
Review Scores
Sales
Danganronpa Another Episode sold 70,596 copies within its debut release week in Japan, and 85,930 copies in two weeks.[13][14]
Soundtrack
Masafumi Takada returned to compose the soundtrack for Danganronpa Another Episode while Megumi Ogata and Aya Uchida, the voice actresses of Makoto and Komaru Naegi, performed the ending credits Progressive -Zan Shin-.
The game's soundtrack Danganronpa Another Episode: Ultra Despair Girls Original Sound Track was released in Japan on December 18th, 2014 and consisted of a total of 75 tracks over 3 discs. A digital version of the soundtrack was released on November 12th, 2015. This version consisted of only 48 tracks.
A limited edition soundtrack CD, Danganronpa Another Episode: Ultra Despair Girls Beyond Hope, was released on December 18th, 2014. This version only came with the limited edition of the game from NIS America's website. It was later re-released with the NIS America's limited edition of the PS4 port on June 23rd, 2017.
Manga
Online Promotion
Danganronpa Another Episode also had a mobile app featuring Komaru that was released for Android in Japan in August 2015. The app allows users to manage their smartphone files and cache, and Komaru's expression will change depending on the amount of storage used.[15]
Spike Chunsoft also released Monokuma Factory, a free browser-based clicker game for mobile phones, on September 16th, 2014, to promote the release of Danganronpa Another Episode. The game allows users to play minigames as well as collect wallpapers and Twitter Icons of characters featured in Danganronpa Another Episode.
Collaborations
Animega Cafe also featured a themed cafe that featured themed foods and drinks based around Danganronpa Another Episode. It ran from February 28, 2015, to April 9, 2015, in Odaiba, Japan and from April 14, 2015 to May 19, 2015 , n Machida, Japan.
Danganronpa Another Episode also appeared as a DLC in Chain Chronicle with Komaru, Toko, Genocide Jack, Makoto, The Servant, Byakuya, and Monokuma appearing as limited guest characters and playable characters.
Videos
Trivia
This game marks the second time Toko and Jack are major characters.
The Monokuma Unit shown in the trailer is most likely a reference to the early concept image meant for the game loading screen on Danganronpa: Trigger Happy Havoc.

In the cinema on the third Island of Jabberwock Island, there is a poster next to the door. In the original PlayStation Portable release, this poster referenced the game Time Travelers, while in the PlayStation Vita and PC versions, it references another Danganronpa game, Danganronpa Another Episode: Ultra Despair Girls. The image is of Komaru firing with the Megaphone Hacking Gun at a pinned Monokuma. This poster can also found in Chiaki's Cottage, behind the Monokuma arcade machine.

This image is also found in Chapter 4 of Danganronpa: Trigger Happy Havoc on the TV shown on the Monokuma Theater.

The South Korean version is the first game in the series to get licensed and published in South Korea.
Two pieces of early concept art seen in a tweet from the official English Spike Chunsoft Twitter account show Komaru and Toko chained together, and Komaru able to run along walls.[16]

In Danganronpa V3: Killing Harmony Kaede Akamatsu discovers a promotional poster for Danganronpa Another Episode: Ultra Despair Girls 2 during Chapter 1. She comments that the game "sounds like some lame spin-off."

The texture files for the library featured in Danganronpa V3 include five of the collectible books from Danganronpa Another Episode: Spiritual Detective Nekopi, Mastering Disappointment, Unstoppable Man, Billy Milligan Royale, and Pure Family Companion.
In the English PlayStation Vita release of the game, the BGMGallery that is unlocked after completing the game, several names of the music tracks are mislabeled.[17]
External Links
References
Community content is available under
CC-BY-SA
unless otherwise noted.