Crypt of the NecroDancer is an rhythm-action roguelike game developed by Brace Yourself Games. The Japanese release of the game included an official collaboration with Danganronpa, featuring Danganronpa skins and a remixed optional soundtrack by Masafumi Takada.
The collaboration was later released worldwide as a free patch for PC on August 23rd, 2017[1], and on PS Vita and PS4 on September 6th, 2017[2].
About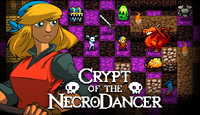 Crypt of the NecroDancer is a rhythm-action roguelike game in which the player character navigates dungeons and defeats enemies by pressing keys (or using a dance pad) to the beat of the game's soundtrack. Dungeons feature enemies, which all have different movement patterns, but which also move to the time of the beat, so attacks against them must be carefully planned and timed. The game features a pixel art artstyle and allows the importing of custom soundtracks.[3]
Spike Chunsoft is the game's publisher in Japan, and announced in the November 26th 2015 issue of Weekly Famitsu[4] that they were working with the developers Brace Yourself Games to bring a Danganronpa expansion to the Crypt of the NecroDancer for the game's Japanese release. The expansion was released on PS Vita as part of the Japanese release of the game on January 18th, 2016, and on the Japanese release on iOS. The expansion was later released worldwide on Steam for PC on August 22nd, 2017[1], on PS Vita and PS4 on September 6th, 2017[2], and was included with the base game of the Nintendo Switch release on February 1st, 2018.

The expansion included optional skins featuring Monokuma, Monomi, Makoto Naegi, Hajime Hinata, Junko Enoshima, Chiaki Nanami, Sayaka Maizono, and Ibuki Mioda, as well as the protagonists of the games Kenka Banchō and Shiren the Wanderer (also published by Spike Chunsoft). The expansion also included a custom soundtrack by Danganronpa composer Masafumi Takada, featuring tracks from Danganronpa: Trigger Happy Havoc, Danganronpa 2: Goodbye Despair and Danganronpa Another Episode: Ultra Despair Girls remixed with tracks from the original Crypt of the NecroDancer soundtrack.
Skins
| Monokuma | Monomi | Makoto | Hajime | Junko | Chiaki | Ibuki | Sayaka |
| --- | --- | --- | --- | --- | --- | --- | --- |
| | | | | | | | |
Danganronpa Soundtrack
External Links
References